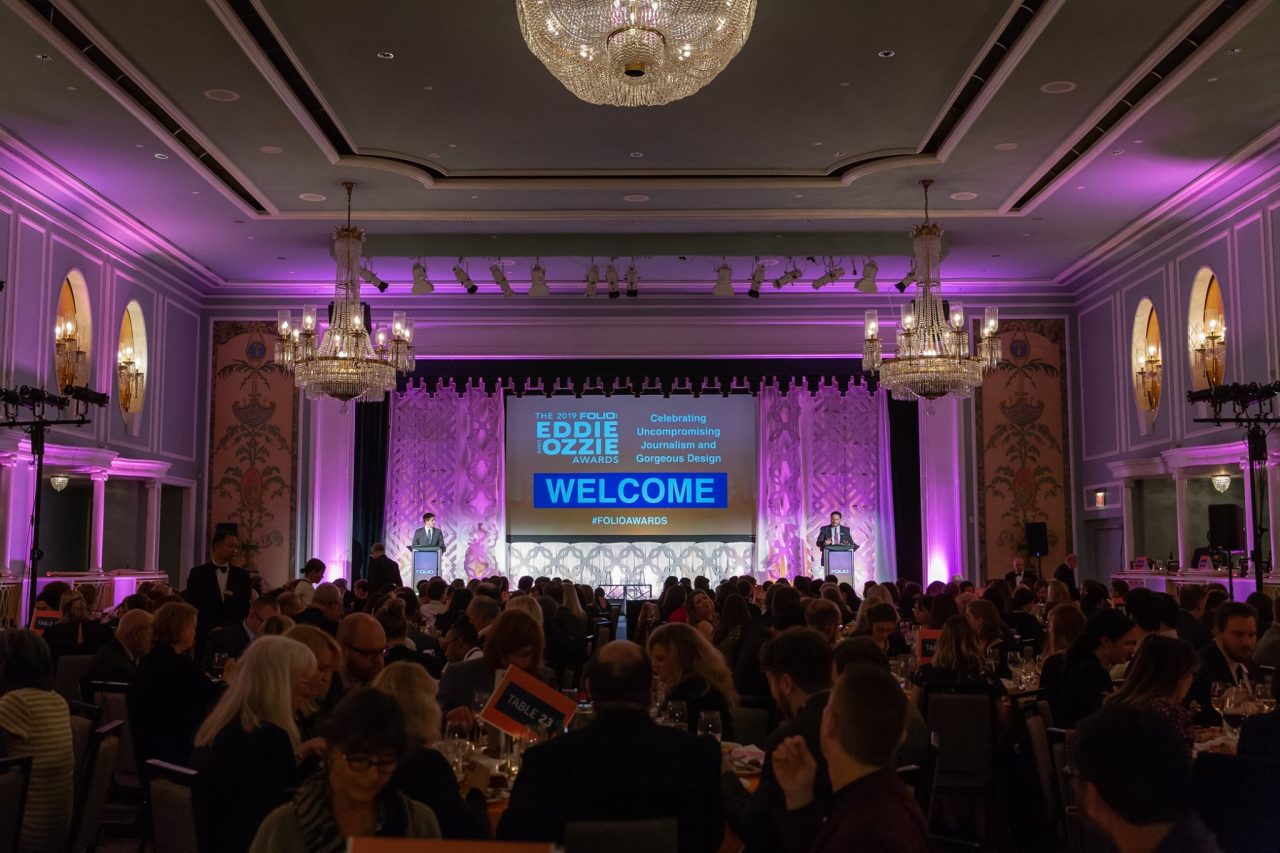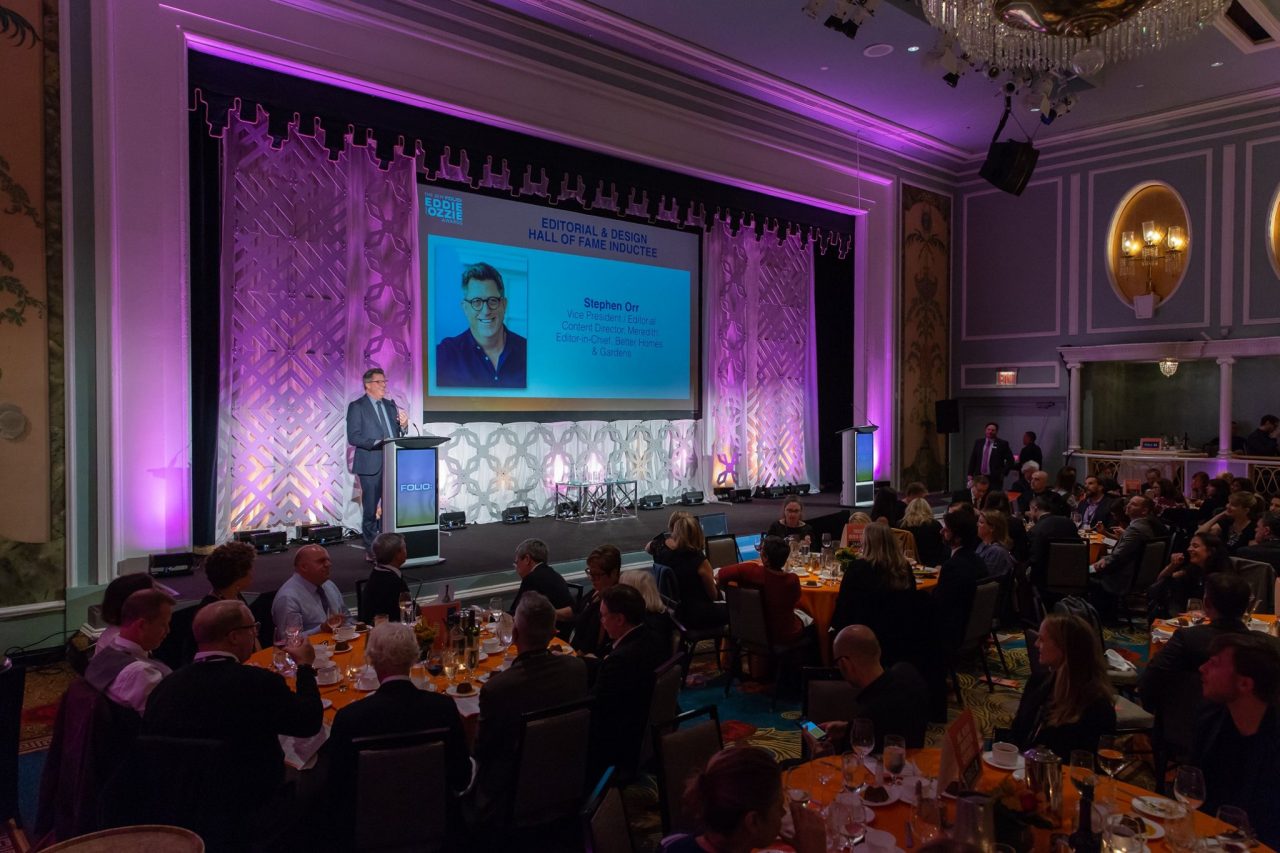 View the full list of Eddie & Ozzie Award winners and finalists here.
NEW YORK—Magazine and digital media professionals from all over the country gathered Wednesday evening to celebrate honorees for excellence in editorial and design. B2B, consumer and regional brands competed for Folio:'s 2019 Eddie and Ozzie Awards, the largest and most comprehensive such program, determined by dozens of judges from across the industry.
Harvard Business Review was named Magazine of the Year—beating out fellow finalists AFAR, Consumer Reports, Baltimore Magazine and Travel + Leisure—and also taking home awards for best consumer podcast, best series of articles–business, among others. The Rotarian, AFAR, National Geographic Kids, Variety and Law360 all took home multiple awards as well.
Additionally, Folio: named four new Editorial & Design Hall of Fame inductees: Stephen Orr (VP and editorial content director at Meredith and editor-in-chief of Better Homes & Gardens), SooJin Buzelli (SVP and creative director at Strategic Insight), Tony Lee (VP of editorial at the Society for Human Resource Management), and Maile Carpenter (editor-in-chief, Food Network Magazine).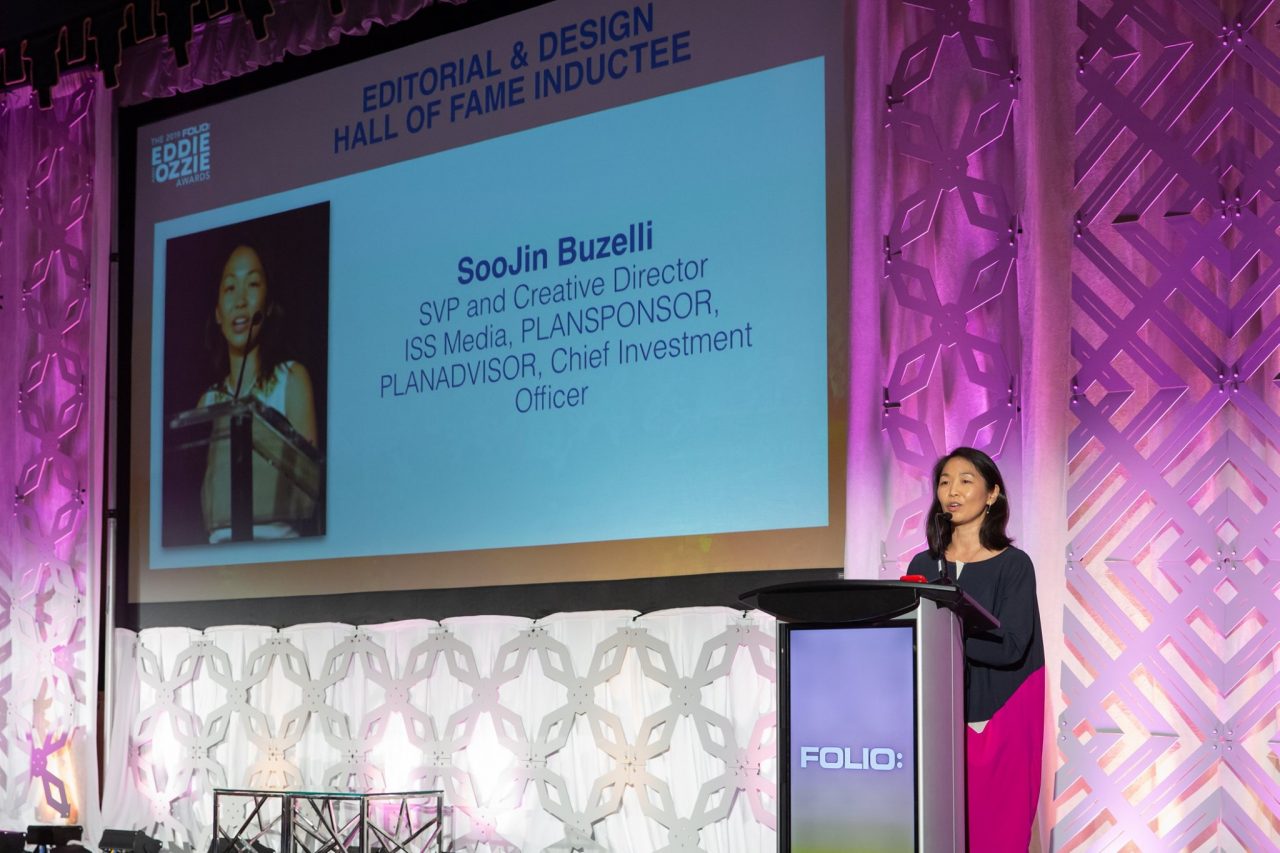 The inductees all spoke of appreciation for their hardworking teams.
"What I try to do is try to help everybody that I work with," Stephen Orr said when he accepted his award. "What matters to me are the people I work with, and leading with kindness and empathy."
Meanwhile, Maria Baugh (head of operations, content and campaigns at WeWork and a former Managing Editor at Food Network Magazine) referenced Maile Carpenter's habit of baking elaborate and thoughtful birthday cakes for people on her staff. 
"Her genius and creativity is matched by her kindness and generosity, and if that's not rare these days I don't know what is," said Baugh.
Winners in the category honoring best new magazines were well received by the audience, especially the Happy Paws' Spring/ Summer 2019 cover, which featured an adorable golden retriever puppy. Meanwhile, the iconic Christine Blasey Ford cover of TIME took the prize for Best Cover Design in the consumer, over-250,000 circulation category.  
Lydia Woolever of Baltimore Magazine was named Editor of the Year and Beth Tomkiw of Taste of Home was named Editorial Director of the Year. The Editorial Team of the Year award went to Real Simple. On the design side, D.W. Pine of TIME was named Art Director of the Year, while Erin Brown of Fleet Maintenance was named Designer of the Year. The Design Team of the Year award went to UpStArt Annapolis.
Editor of the Year, Lydia Woolever, cemented the unofficial theme of the evening in her acceptance speech: "It's been an honor to cover the underdog city of Baltimore over the last five years. There's hardship but also resilience and hope," Woolever said. "In the end, it comes down to the people."
Special thanks to our guest presenters Liz Vaccariello (Real Simple's VP and editor-in-chief), Alison Overholt (ESPN's VP of storytelling and special projects) Katy Ibsen (Folio: contributor and founder of Sweet Jane Magazine) and the several-dozen industry professionals who took time out of their schedules to judge the awards.
Congratulations to all of the Eddie & Ozzie winners and to our Hall of Fame inductees! The full list of winners can be found here.
→  Additional coverage of keynotes, panels and breakout programming at this year's Folio: Show can be found here.
View this post on Instagram
The post Harvard Business Review Wins Magazine of the Year at the Eddie & Ozzie Awards Gala appeared first on Folio:.