Mr. Magazine: Preserving the Past, Present, and Future of Magazine Media
By Linda Ruth
Thu, Feb 3, 2022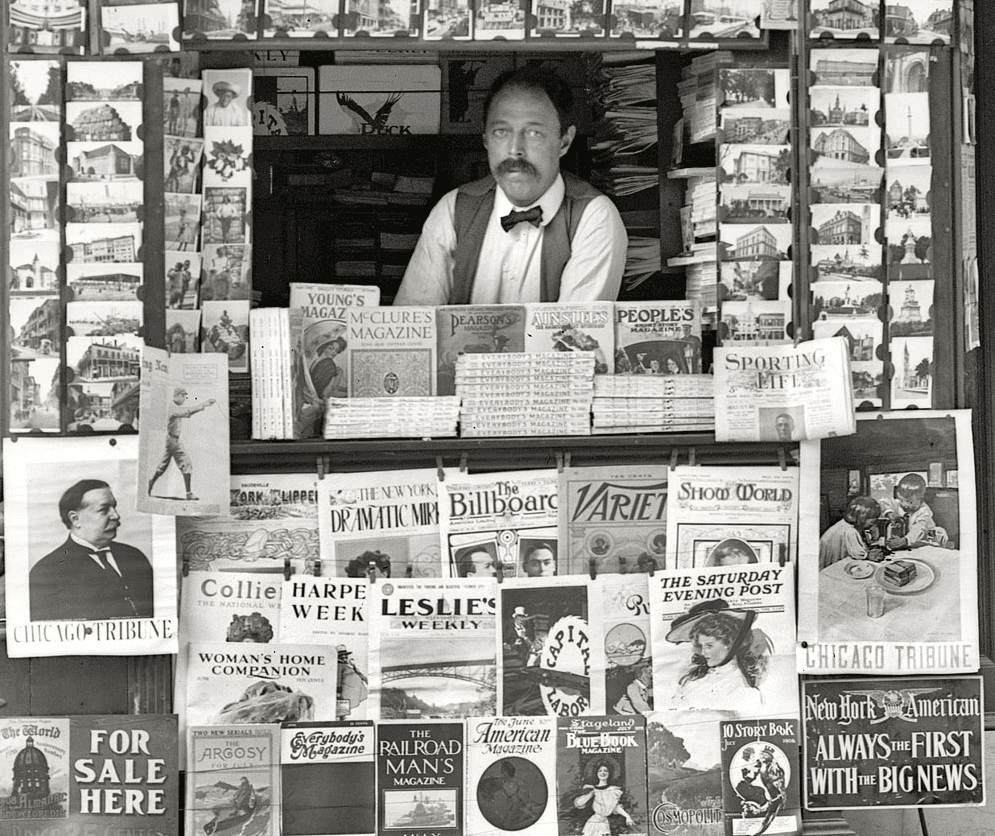 A Rollicking Ride Down Memory Lane
"How many people will be comparing websites fifty years from now?" Samir asks. "Will they be saying, look what Politico in February of 2022, compared to Slate? It isn't going to happen."
It's a privilege to meet bi-weekly with my magazine-loving friends, the Pandemic Publishing Roundtable—Joe Berger, Sherin Pierce, Bo Sacks, Gemma Peckham, and, of course, Mr. Magazine himself, Samir Husni. Samir recently retired from teaching after 37 years, but his alter-ego, Mr. Magazine, is thriving, and having none of the "print is dead" punditry.
"So much of the history of pop culture has been captured in these decades of magazines," he tells us. "Going through this history—I'm a kid in a candy store. Every time I find something new."
Today Samir is going to walk us through some of the highlights of his collection, beginning with Reader's Digest, which is celebrating its 100th anniversary.
Samir: Reader's Digest officially launched in February 1922. Not many people know what came before that. Dewitt Wallace served, and was injured, in World War 1. While he was recuperating, his friends brought him magazines to pass the time. At that time, New York City alone had 22 newspapers. Wallace thought, people just don't have the time to keep up with the sheer volume of media. Why don't I put together the important points, to save people time while getting the most valuable and enduring information.
He created his preview issue of Reader's Digest in January 1920. And then he took it to every publisher in New York and every one of them told him, this will never work. So he went home and put the magazine in a drawer.
A few months later a friend introduced him to Lila Bell Acheson. They married in 1921. It was Lila Bell who said, forget about the publishers. You and I will do this. And they did. Lila Bell borrowed $500 to launch their publication. The first issue was 62 pages. Every article was one page, front and back; every page could be torn and saved as an entire article. And so, Reader's Digest became the largest magazine in US history, with 80 million copies in circulation.
Sherin: This was in how many countries?
Samir: At one point it had 35 editions in 29 languages. Its history is woven into the history of other publications, the history of magazine publishing. Remember Fact magazine? In the mid-1960'w Ralph Ginzberg published Fact magazine, and spent 20 pages ripping Reader's Digest apart. He called it anti-black, anti-Semitic, a mouthpiece for the John Birch society.
Joe: Back in the '60s, calling someone a John Bircher was a big insult.
Samir: Fact did the same thing with Time magazine, which will also soon be celebrating its 100th Anniversary. And—you can't make this up—when Time was launched, as a time-saver for people too busy for media, it was called Facts.
So back then, there was another magazine, published by Gardner Cowle, named Look. His wife, Fleur—Gardner was her third husband—was working on Look, and in 1949, while she was doing that, she launched another magazine for people in a hurry, and she called it Quick. It was the first pocket-sized news magazine. She got the idea from Daily Word. The format was 4" by 6".
Joe: So it would be competing with Time and Newsweek.
Samir: But it was very different. It only cost 10 cents, and it could fit in your pocket. After one year it was selling 850,000 copies.
Joe: How did newsweeklies work then—was it printed in various parts of the country?
Samir: It was printed in Chicago. They partnered with a news program on ABC, they had posters in many stores with a token for a dollar off your subscription. Then they teamed up with NBC and started doing spots on Sunday mornings with Quick editors. And, way back in 1950, they were doing something that to many people was, and is, unheard of—advertising on the cover. There was a cover tag advertising Curtis Candy. Or special Arrow (shirt) edition. Or a cover might say, "Don't Miss Page One." And when you turned to page one it would be an ad of a local pharmacy, split out by regional editions.
Joe (laughing): And then all the copies went to Pittsburgh.
Samir: In 1952, Fleur decided to add 32 extra pages just for New York with all the TV programs. They promoted it on the cover and went on to break out the TV guide to different regional versions.
Sherin: Did they have different covers?
Samir: They all had the same cover advertising the regional listings, exactly like Walter Annenberg would do when he launched TV Guide in April of 1953.
Sherin: He ripped her off?
Samir: He bought all the regional TV listings from Cowles Media. Quick closed soon after;June 1, 1953 was the last issue. 1.3 million people bought and read it. But despite its huge readership, the revenues weren't enough to defray expenses. They merged it into Look.
Sherin: What did Fleur do then?
Samir: On June 8 a new magazine came out called Tempo. It was from the staff from Quick. Quick's last issue was the week before--they didn't miss a beat! But then, three months later, on Sep 30, 1953, a new issue of Quick was published—with Walter Annenberg as editor and publisher.
Sherin: But Quick merged with Look…
Samir: And then they sold the rights to Annenberg. He was able to publish it for 6 months as a picture/news magazine in a larger format. How did Fleur and Annenberg know each other? It's a mystery I haven't solved. We do know that Fleur was at the 73rd birthday party of Walter's wife, Leonore.
By 1955 we have 72 pocket sized magazines in the country. Five of them were for African Americans. Someone else bought and published Quick from 1955, focusing on content like miracle cures for arthritis and cancer. They folded. And Quick came back AGAIN in 1959.
Sherin: Looking more like a sophisticate.
Samir: It folded again, came back again in 1960, as a mix of sophisticate and politics.
Joe: A precursor to Hustler.
Samir: They billed it as the original newspaper magazine. It was NEVER a newspaper magazine. All those incarnations—it's a fun story.
Sherin: When did Quick finally die?
Samir: 1965
Sherin: So from 1949 to 1965 under different formats, different publishers, different editorial focuses. What did Fleur do after Quick?
Samir: She launched what is one of the most creative, beautiful magazines ever published--Flair magazine. Every issue used the resources of printing and paper with diecuts, different sized paper throughout, colors, and art.
Sherin: How long did it last?
Samir: One year. Feb 1950. There's a preview issue from 1949, 5000 copies were printed, and every copy was numbered. It was a work of art.
Joe: Why did it only last one year?
Samir: It was so expensive to produce. Every issue has diecuts, half pages, small tags with their own page numbers. She was using print in all the most creative ways. In the last issue she wrote that she just couldn't affort to continue, due to the foreign situation, rising costs, and paper shortages. It cost 50 cents on the newsstand. This magazine meant so much to Fleur, she wanted her obituary to be Flair and nothing else. She WAS Flair.
Joe: Amazing history.
Samir: There is so much people don't know about the role magazines play in the history of our country. We need someone to cherish these historical artifacts, someone to preserve it.
And that is why I will launch Magazine Media Center: preserving the past, present and future of magazine media.
And I invite the members of the Roundtable to be on the board