Publisher's Roundtable: Conversation with Bonnie Kintzer, the President and CEO of TMB
By Linda Ruth
Fri, Jun 3, 2022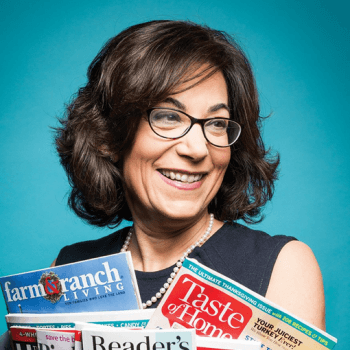 What happens when you cross a venerable magazine company with a dynamic social and streaming video company? If you're TMB (Trusted Media Brands), the answer is: energy, synergy, and growth.
The Pandemic Roundtable, still meeting two years in and comprising Joe Berger, Sherin Pierce, Gemma Peckham, Bo Sacks, Samir Husni, and me, met with Bonnie Kintzer, the President and CEO of TMB, to find out what these interesting times look like to her.
TMB, formerly known as the Reader's Digest Association, Inc. (RDA), is a global, multi-platform media company. TMB's portfolio of community-based lifestyle brands includes Reader's Digest, Taste of Home, The Family Handyman, Birds & Blooms, and others. In 2021 TMB acquired Jukin Media, a rapidly growing, award-winning streaming and social video company; the acquisition brought Jukin's new media brands FailArmy, The Pet Collective, People Are Awesome, and Poke My Heart, among others, to the TMB portfolio. In all, following the acquisition, TMB boasts 250+ million social media followers, 100+ million monthly website visits, 700+ million streaming TV minutes watched per month, and an audience of 27+ million print readers.
Samir: Tell us about the changes you've been part of, from RDA to TMB to now.
Bonnie: The acquisition of Jukin gave us a combination of two strong companies with complementary skills. And it's amazing. People are energized by working together because they each gain from the strengths of the other. For example, we combined the data teams right away, and it's providing new and exciting opportunities for all the employees—the print people are learning digital, the video people the discipline of print publishing.
Samir: Many companies are moving from print to focus on digital. TMB is growing with both. What do you know more than other companies about the synergy of digital and print?
Bonnie: We've always been a consumer-driven company. These are two companies that were always about the audience. If that's your true north, you have a lot of opportunity, if you're always thinking about what's best for the consumer.
Bo: Are your products on TikTok?
Bonnie: Yes, Taste of Home, Family Handyman, and others have great TikTok videos!
Sherin: Can you tell us about your video work?
Bonnie: We have people watching videos 24 hours a day looking for ones that will resonate with our audience. It's very community driven, we find and select what people are most interested in watching.
Joe: Did you acquire this video experience to build up your print brands?
Bonnie: We knew we had to get bigger. A small to medium sized company is going to face difficulties in the current environment. When we met Jukin it was love at first sight. Our current focus is on growth and investment, and the energy and excitement in what we can build together.
Samir: Is there a downside?
Bonnie: It's intense! Waking-up-in-the-middle-of-the-night intense. We're making a lot of bets, there is a lot to coordinate. I've got an incredible management team, there's a lot of talent, a lot of focus, and we need to ruthlessly prioritize. We can't do everything well at once, we have to choose.
Joe: What new content does Jukin bring, and what can TMB do to develop it?
Bonnie: The Pet Collective alone has tremendous potential for growth via websites, newsletters, and subscriptions. We are creating a ton of new and original content for our streaming channels with 2 new shows launching on the FailArmy channel this month, Your Pranks our Show and Theory of Awesome.
Joe: What did you find did well in the pandemic?
Bonnie: Subscriptions did great for us, as they did everywhere. And many of our brands were especially appreciated—Taste of Home, Birds and Blooms, people were at home and our content really served these people.
Joe: Has the growth rate held up?
Bonnie: It's inevitably slowed, people are not cooking, for example, as much as they were the past couple of years; but we're still up from pre-pandemic.
Samir: I've counted 54 magazines that are older than 100 years. To what do you attribute this longevity? Can you think of any other brands in media that have lasted that long?
Bonnie: I look at Reader's Digest as the fabric of America. It's a multi-generational brand so people stick with it from generation to generation. There isn't a lot out there like it. Reader's Digest readers were always a community. Readers are eager to learn, they are civic minded, they enjoy laughing. In a stressed-out world it offers even more of a benefit, and it has never strayed from what it is. It's a compendium of some of the best articles in the country, ones that make you feel better about the world. We celebrate life, and help people enjoy theirs. Adding video to that allows us to be a community-driven media company.
Sherin: It's the same with the Old Farmer's Almanac. It's about the good news, the wholesome and useful. That's what people are paying attention to. People are tired, and positivity goes a long way.
Bo: That's Bernie Mann's secret in Our State magazine—nothing but uplifting.
Joe: People are going to want to plant gardens and look at birds and cook and eat. Your topics are in that sense evergreen.
Sherin: Has your readership demographic changed, maybe getting younger?
Bonnie: Our digital content is read by millennials. The magazine tracks with magazine subscribers overall, people in their fifties who are getting magazines delivered to their home.
Samir: People over fifty is half the country.
Sherin: And they have disposable income.
Samir: What's the plan going forward? Is the integration of the two companies going to impact every brand you have?
Bonnie: Our focus now is using the video clips for Readers Digest and Family Handyman. We'll expand out from there, but at the moment we're keeping a disciplined focus.
Samir: Why are you succeeding where others before you have failed?
Bonnie: I understand the industry; I'm a good listener; and I'm not afraid to change my plan if I learn something new.
Joe: Do you see the industry consolidation as a potential threat?
Bonnie: Bo had a great column about the consolidation that spoke a lot of truths. We're not calling ourselves magazine companies; we're media companies. Our magazines are important and loved, but we need to be where the consumer is and run healthy magazines. The way to run a business is to focus on what makes sense to our audience. We test our products, we keep our authenticity. We're the only ones left in the direct-to-consumer book business, and it's doing really well. This is a happy surprise to me.
Bo: Are you experiencing struggles with the supply chain?
Bonnie: We had some weird shipment stuff early on, some oddities, but we haven't had paper issues like so many others have.
Bo: Ingram is warning that prices are going to rise, probably dramatically.
Bonnie: Rising costs are a challenge on the magazine side, less so on the book side.
Bo: I think you could say about the entire industry: if you play it smart, there's lots of room for growth.
Joe: What opportunities do you see coming up?
Bonnie: For us it's media offered directly to viewers via the internet. It gives us bigger, better offerings to the advertising community. This is where we're expecting our growth.
Joe: Do you see opportunities for print?
Bonnie: I don't.
Joe: What do you think is holding print back?
Bonnie: The cost structure. We can't raise prices to make up for it without losing audience. The balance between price and circulation is challenging and leading to the decline of print.
Joe: What overall roadblocks do you foresee?
Bonnie: Competition. Everyone wants to be in media. The power of the platforms is extraordinary. And inflation will be a challenge.
Bo: Are you scouring your archives and repurposing the classics?
Bonnie: In print, not so much. We're creating new content and editing other people's work from other sources; but evergreen is really important digitally, for the long tail.
Bo: We're in at least our second digital generation, people who have grown up their entire lives in a digital world. Their perspective is different.
Bonnie: Our online and print audiences are totally different from one another. This will continue to evolve. If you look at this generation and how they absorb information it is video and pictorial. It's a very real thing, and as media companies, we need to meet them there.